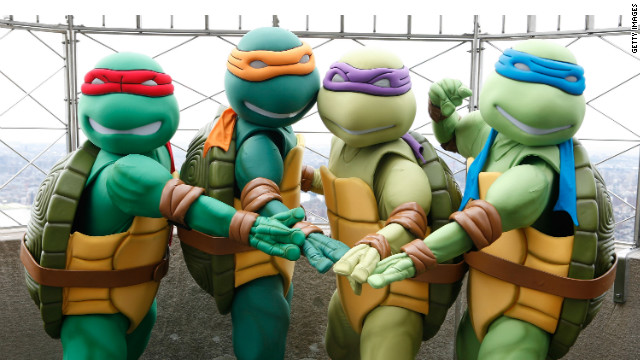 (EW.com) — Two weeks ago, EW premiered the trailer for Nickelodeon's reboot of a "Teenage Mutant Ninja Turtles" charcterised series, and now we've got some some-more disdainful information for you: The children's wire network will premiere a uncover on Saturday, Sept. 29 during 11 a.m. in a one-hour special event. Nickelodeon will strictly announce a premiere date on a network on Saturday.
The half-hour movement array is set to embody of 26 episodes about the four, butt-kicking turtles who arise from a sewers: Leonardo ("American Pie's" Jason Biggs), Raphael ("Lord of a Rings'" Sean Astin), Michelangelo ("Teen Titan's" Greg Cipes), and Donatello ("Planet Sheen's" Rob Paulsen, who uttered Raphael in a strange charcterised array during a '80s and '90s).
The network describes a array as: "Funnier and with some-more Ninjutsu than ever before, the show will try a fraternisation of 4 teenage brothers training to rest on themselves and one another as they uncover a poser of their existence and grow to turn a heroes in a half-shell that they are unfailing to be."
Rounding out pivotal roles in a array embody Mae Whitman ("Parenthood") as a boys' companion Apr O'Neil; Hoon Lee ("Royal Pains") as a Turtles' sensei and father figure Master Splinter; and Kevin Michael Richardson ("Penguins of Madagascar") as nemesis Shredder.
See a full story during EW.com.
CLICK HERE to Try 2 RISK FREE issues of Entertainment Weekly
© 2011 Entertainment Weekly and Time Inc. All rights reserved.

Share this on:
Article source: http://rss.cnn.com/~r/rss/cnn_showbiz/~3/9afDwwJdExo/index.html